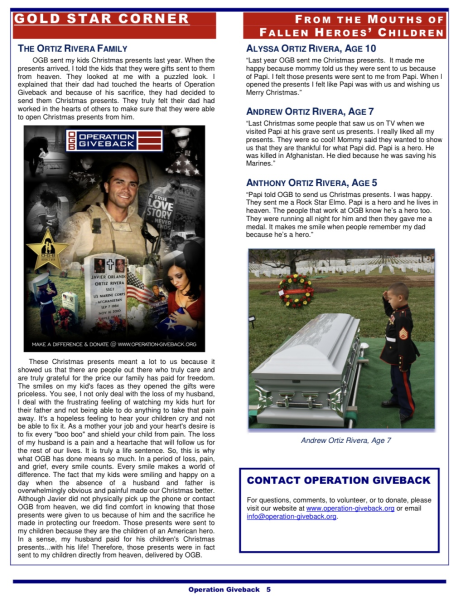 PGB Christmas Gift Project was born as a direct result of our founder's desire to bless our fallen heroes' children and remind them that their heroes' sacrifices will never be forgotten.
Most of us remember waiting for Christmas morning with great anticipation and excitement, wondering what was under our Christmas tree. Unfortunately, every child does not get the opportunity to experience the joy of Christmas, especially in the wake of a fallen hero not being there. It is a struggle for parents and children to see the beauty of Christmas without their hero. Thanks to our supporters, our volunteers, and wonderful sponsors and friends of PGB have allowed us to renew if only for a moment the joy of Christmas to children and parents across the United States, Hawaii, Puerto Rico, and Germany.
Every time a sponsor supports our events and each time a runner registers it is bringing hope to local families of Fallen heroes in our commUNITY as well as across the nation. Christmas is a time of giving, a time to remember those who we love and reach out to those who are in need. PGB would like to thank all of you for helping us fulfill our mission of never forgetting the sacrifice of our service men and women and their families. Each year we serve as many family members as our budget allows us to serve. We are proud to announce that some of the proceeds from the PGB GOLD STAR RUN Huntsville Edition will be invested in supporting the 2023 PGB Christmas Gift Project. We would like to increase our numbers and turn away no family or child of a fallen hero or wounded warrior. 
Please sponsor an event or donate at www.pgb1.org we thank you for opening your heart to such a profound initiative.